Victims of Sexual Abuse Do Not Need to Suffer in Silence Any Longer.
Sexual abuse victims in Maryland can now seek justice with confidence under a new law, regardless of when their abuse occurred.
Were You Sexually Abused?
If you were sexually abused by Clergy, a coach, a teacher, family or others, we can help you. No matter when it happened, no matter who did it…Schochor, Staton, Goldberg and Cardea, P.A. can help you seek justice! You May Be Entitled to Compensation.
Breaking News:
Lawyers for church abuse survivors set to defend Maryland's Child Victims Act…. "We fervently believe that it's not a statute of repose, that it's a statute of limitations," said Jonathan Schochor, whose firm represents the plaintiffs in the Prince George's County lawsuit. "The legislature on numerous occasions has retroactively changed the statute of limitations, which this clearly is. Therefore, the Archdiocese of Washington has no constitutionally protected interest." Read the story here.
As the Archdiocese of Baltimore's bankruptcy navigates through the legal process, the court has selected a group of sexual abuse victims who will negotiate a settlement for hundreds of fellow victims as part of a creditors committee. Schochor, Staton, Goldberg and Cardea's Jonathan Schochor is one of the few attorneys assisting in the process. He spoke with The Baltimore Sun to explain how the creditors committee will work to seek justice for victims. Read the story here.
______________________________
We are proud to share that our client has been appointed to the Creditors' Committee, in the bankruptcy proceedings involving the Archdiocese of Baltimore, representing one of only seven survivors from a pool of hundreds. Our Firm is one of only six Firms to provide legal counsel to the Committee as we work toward resolving the Baltimore Archdiocese Bankruptcy for the collective benefit of all survivors. We are honored to provide counsel to our client on the Committee and extend our encouragement to all survivors to step forward and contact us for representation in this tragic matter.

—————–

As hundreds of sex abuse victims across Maryland try to repair their lives and seek justice in court from their abusers in the clergy, what does the Archdiocese of Baltimore filing for Chapter 11 bankruptcy protection now mean to those abuse survivors? Jonathan Schochor from Schochor, Staton, Goldberg and Cardea, and Andrew Janet from Janet, Janet & Suggs, LLC share their expertise in a powerful co-authored op-ed in The Baltimore Sun entitled, The Hypocrisy of the Archdiocese of Baltimore. Read the full commentary here.

Watch Jonathan Schochor with Dr. Kaye of WEAAfm
Jonathan Schochor, founding partner and chairman of Schochor, Staton, Goldberg and Cardea, P.A. joined Today with Dr. Kaye on WEAA-FM to discuss the new Maryland law that eliminates statute of limitations for sex abuse civil lawsuits.
The Recognized Leaders in Sexual Abuse Cases in Maryland
Schochor, Staton, Goldberg, and Cardea, P.A. are experts in leading Sexual Abuse litigation. We represented over 8,000 victims and WON a $190 Million Settlement* against Johns Hopkins, the largest Sexual Abuse case in Maryland history. Learn more about this case.
Why Schochor, Staton, Goldberg and Cardea, P.A. Can Help You
Comprehension of the damages suffered by survivors of sexual abuse: We have a deep understanding of the physical, emotional, and psychological harm that sexual abuse can cause and its long-lasting effects on survivors' lives.
Awareness of current laws and news concerning sexual abuse: Our law firm keeps up-to-date with the latest laws and news related to clergy sexual abuse, ensuring that we are well-informed and equipped to handle your case.
Recognition of the long-term impact of sexual abuse: We understand that the effects of sexual abuse can be profound and may persist throughout a survivor's life.
Watch Jonathan Schochor on Midday Maryland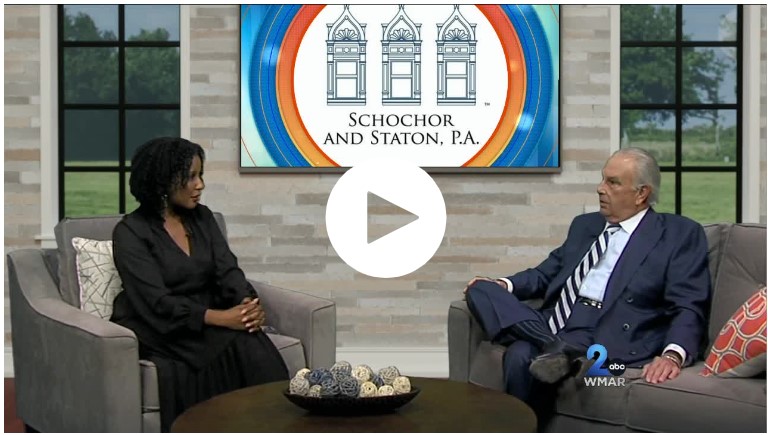 Legal Support for Survivors of Sexual Abuse: How Our Law Firm Can Help Manage Your Case
Respectful consideration of your privacy and well-being: We recognize that sexual abuse is always a sensitive matter regardless of when it occurred. Our law firm handles cases of sexual abuse with the utmost care for our clients' privacy. If you prefer to have minimal involvement in the case, we will respect your wishes.

Tailored legal representation: Each case of clergy abuse is unique and requires a personalized legal approach. Our law firm will provide customized legal services, tailored to your specific circumstances. We will handle your case in the way that you prefer, as you are the one who will be most impacted by the outcome.

Experienced and knowledgeable legal team: Our commitment to fighting for the rights of sexual abuse survivors has given us valuable experience in handling cases like yours. You can have peace of mind knowing that your legal team is well-versed in sexual abuse cases.

Accessible legal assistance: We believe that finances should not be a barrier to justice. Our law firm does not require any upfront or out-of-pocket costs to hire our services. We only receive attorney's fees if we successfully win or settle your case.
About the New Maryland Law in April 2023
The lawmakers in Maryland passed a bill that would remove the statute of limitations for victims of child sexual abuse. This new law came within an hour of the release of an investigative report that exposed decades of abuse within Maryland churches.
Read the Attorney General's full report on child abuse in the Archdiocese of Baltimore.
Our News Coverage
National News Coverage of Our Previous Settlements
Schochor, Staton, Goldberg and Cardea, P.A., is an award-winning law firm dedicated to obtaining compensation for clients and their families who have experienced sexual abuse and injury at the hands of those in whom they placed their trust. If you are a survivor, reach out to 410-234-1000 or contact us today. We can help.
Get a Free Confidential Consultation